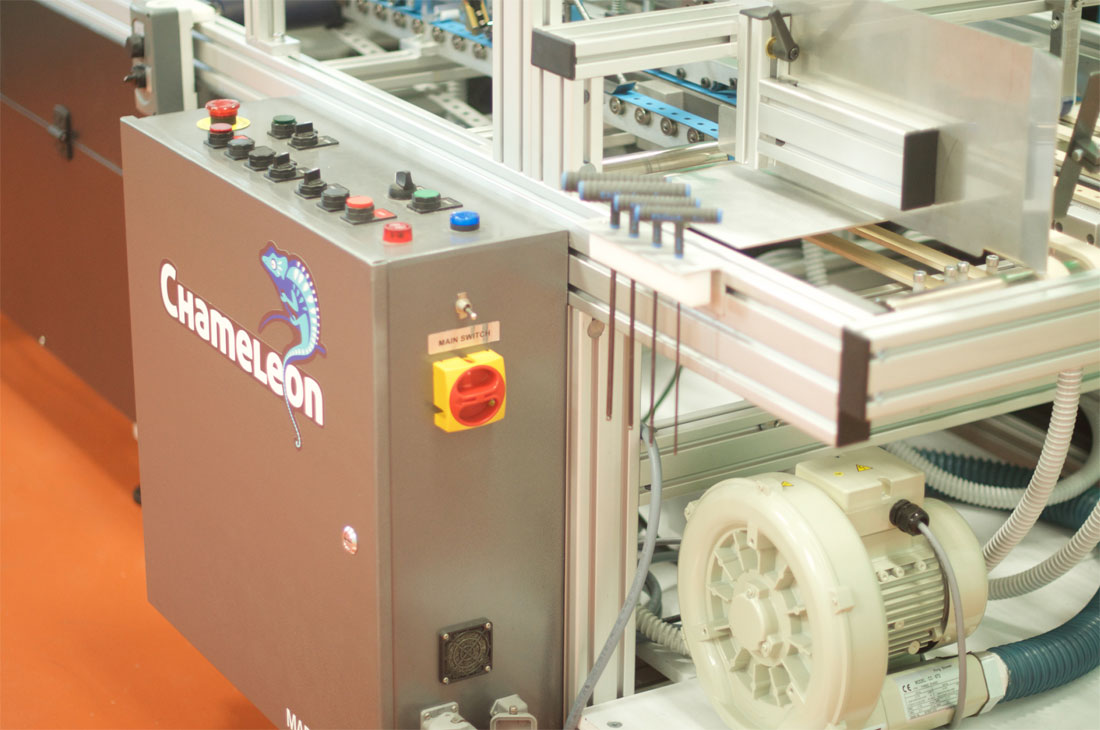 Growing out of AdTech Graphic Service - a three+ decade old graphic arts equipment supplier in the north eastern United States - Chameleon Finishing Systems was established on several simple principals: We manufacture and support equipment and equipment solutions that consistently work well, that benefit our customers at all times, and that increase profitability for those who own them.
We are dedicated to this approach in our style of manufacturing, in our unique converting solutions, and in our interest in leaving every situation better than where we began. We design, manufacture, and distribute uniquely capable equipment and believe in inline solutions that combine like processes and optimize production – And do so all in a way that consistently improves your bottom line.
Our People:
---
The in-house technical staff of Chameleon Finishing Systems has a broad range of knowledge that covers electrical, control, and the mechanical aspects of both traditional and leading edge print and print finishing equipment and systems. Our staff has the unique ability to completely tear down, rebuild, and/or refurbish most graphic arts production equipment and our precision machinists have decades of experience in tight tolerance production and assembly. This combination of experienced personnel gives us the ability and the knowledge to be able to provide proper and efficient equipment solutions for all manner of both print and print finishing operations.
Our Solutions:
---
Chameleon Finishing Systems maximize production and improve operator efficiencies with an easy, operator-friendly interface to both system and controls. Our solutions are geared toward providing new and cutting edge solutions for the converting and fulfillment of direct mail products, media products and packaging, retail packaging and fulfillment, and other specialty end-of-the-line finishing systems.
Direct Mail Packaging: Chameleon Finishing Systems can provide a broad range of solutions for the converting and fulfillment of direct mail packaging. With our wide variety of modules to build from, we can assemble full system solutions that allow our users to score inline, perforate inline, turn product, image product, fold product, and affix products. You can add addressing for your direct mail products and batch sort as the product exits the system. Our systems can be found producing simple to complex direct mail kits in large and small manufacturing facilities worldwide.
Commercial Print Finishing: Chameleon Finishing Systems provide efficient folding and gluing solutions for converting pocketed folders of all types, CD and DVD layouts in many varieties, coin wallets, ticket jackets and a wide assortment of hospitality oriented products. Our systems are easy to operate with user-friendly setup and control interfaces that make the transition from traditional systems simple. Our unique system design improves make-ready and change-over times (by as much as 50%), as well as runs faster and more efficiently than traditional systems.
Media Packaging: Converting the package - and fulfilling the package with the media included - is a specialty of Chameleon Finishing Systems. Edge-to-edge affixing of lenticular covers, folding and gluing of the package, and precise inline placement of media can all be accomplished using a combination of modules to create a complete system designed to meet your specific production requirements.
Specialty Printing & Packaging: If you are selling outside-the-box solutions for print and packaging, Chameleon Finishing Systems has a converting solution to meet your needs. We offer a wide variety of modules – both custom and standard - to address a multitude of applications, such as easy 3rd-party system and component integration, high-resolution imaging, dod ink-jetting, inline scoring, high-speed affixing, or a combination of options. We are confident that we can provide a specialty solution for any of your specialty project needs: Let us work with you to use our outside-the-box capabilities and expertise to satisfy your need for outside the box solutions, both today and into the future.