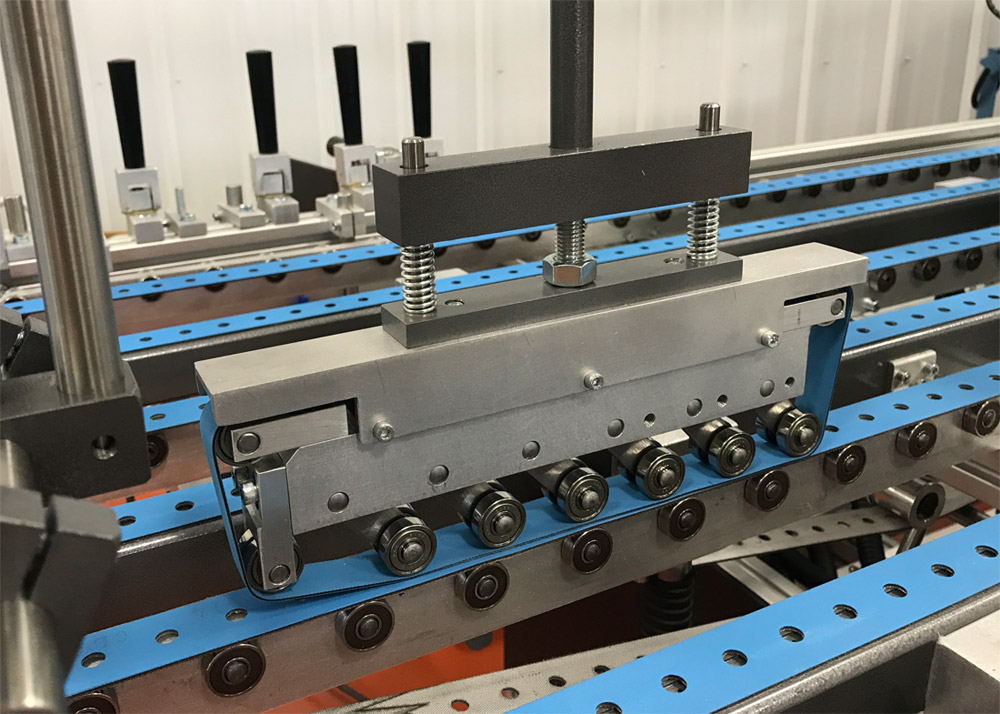 Chameleon finishing systems are industry leading multi-function folding and gluing systems that are made up of a series of modules followed by a delivery and equipped with a package of top drives and other manipulating accessories. This modular approach allows for maximum flexibility and a wide variety of output possibilities under multiple operating conditions.
At the heart of the Chameleon system are our top drives and manipulating accessories. Our upper drive controlling and manipulation accessories are designed with the operator's needs in mind. Quick release, pressure adjustable, and automatic thickness compensating, our top drives and related accessories are built to be straight-forward, versatile, effective, and as simple as we can design and construct them. These innovative features - when used in conjunction with the versatile upper bridge and beam assembly standard on all Chameleon Finishing Systems - make set-up and ongoing job performance quicker, easier to control, and more productive than many other legacy finishing equipment manufacturer's products.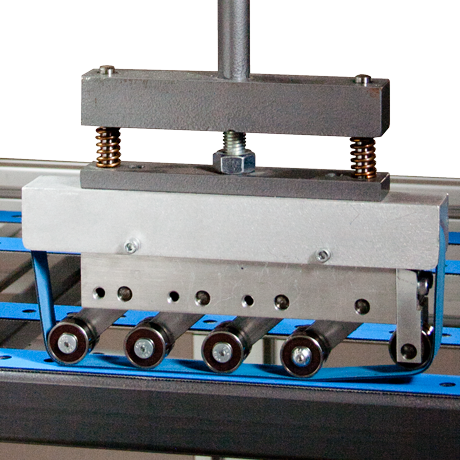 The true strength and versatility of the Chameleon Finishing Systems approach is found within the many details of our upper drives: From our belted signature top drives, which are available in 4 standard lengths as well as custom configurations, to lower cost quick release low profile drives, to poly wheeled drives and more, every piece of equipment that we produce is solidly built and meant to last with minimal maintenance. Nowhere is this approach to quality and heavy duty construction more evident than in the many features and options that come standard or are available on Chameleon Finishing System accessories and other manipulating equipment.
Automatic Thickness Adjustability: The Chameleon Finishing Systems signature upper belted drives, are designed with an "automatic thickness adjustability feature" as standard. These upper belted drives assure your operator that not only will the controlled product blank be carefully driven top and bottom at the same speed, but also - as the product traveling under the upper drive may have several differing thicknesses to be controlled over its' length - the belt contact pressure from above will remain constant over the whole blank. This unique feature leads to better control over the entire production run, which in turn produces a better end product with far fewer production difficulties while operating the equipment.
Quick Release: The ability to release the upper belt drives as needed via a quick release mechanism is another innovative and industry leading feature standard on the Chameleon Finishing Systems upper belted drives. Unlike legacy systems - where clearing the inevitable product jam requires removing several bolts, pulling the product out of the line, and resetting the affected top drives as if it were a new make ready - our integrated quick release system allows jams to be cleared in far less time and with far less complexity. By providing the ability to release the tension from the lower belt with the flip of a handle, your operator is able to clear any jams in seconds, and be back up and running in an extremely short amount of time, reducing downtime and increasing profitability.
Pressure Adjustable: The same quick release system that allows jams to be cleared in a fraction of the time of legacy systems also allows operators of Chameleon Finishing Systems the ability to adjust the amount of pressure applied to the product very simply and quickly. This approach allows a skilled operator the ability to set up a production run and begin producing product in less time, with greater control, and with fewer production difficulties than many other approaches.
Quick Release Poly Wheeled Drives: In certain situation and operating conditions a poly wheeled upper drive may be preferable to a belt driven top drive. For these types of production runs, we offer a poly wheeled upper drive that still provides the many benefits of our standard drives, including automatic thickness adjusting, pressure adjustability, and quick release. This alternative option to driving the product gives your Chameleon operator another solid and innovative tool to work with as your production requirements change from job to job.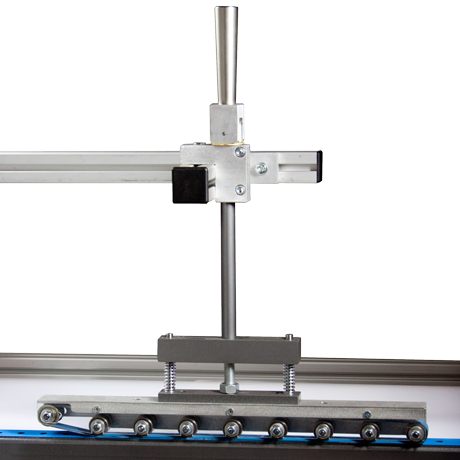 Quick Release Low Profile Drives: When driving or controlling a production piece that maintains a single thickness of material throughout its' length, the Chameleon Finishing Systems Quick Release Low Profile upper drives may be a more cost effective way to control the upper driving process. While still extremely well made with integrated quick release and pressure adjustable, they do not have the automatic thickness adjusting features of our standard top drives. This simplified construction allows us to offer them at a more economical price point.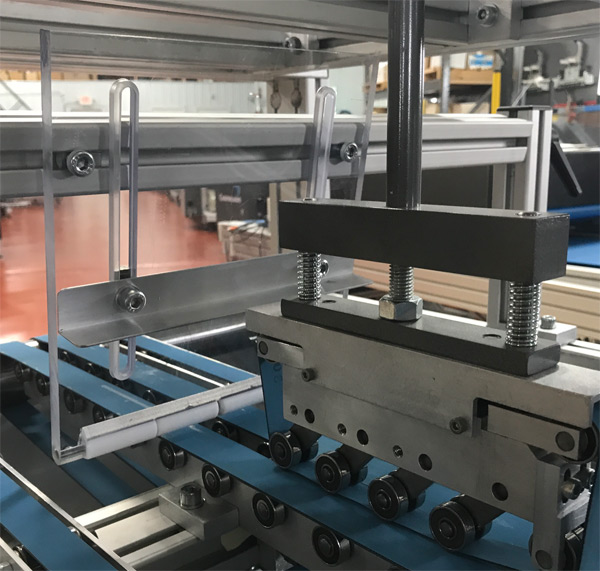 Cross Fold System: The proprietary "cross fold" system available on complete Chameleon systems is built around a simple fold plate/stop with a non-marking roller assembly to assist the driving of the folded product through the process. This system allows for the most optimum position for the fold at hand no matter what that position may be – Our versatile cross fold mechanism is designed and manufactured to be able to be operated at an infinite number of angles and can be positioned at any point along a Chameleon Finishing System transport base. This unique positionability and flexibility allows for a virtually limitless number of possibilities of folded configurations.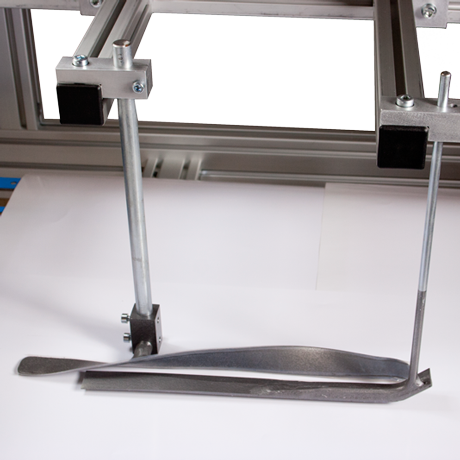 Plow Fold Devices: Chameleon Finishing Systems "plow fold" formers and swords / guides are available in 4 standard configurations: tab formers and small, medium, and large turning plow sets. We also routinely layout and manufacture complete plow fold setups for custom applications. Our plow folding devices are mounted with a solid multi-directional block and rod apparatus, which allows mounting from many angles or directions and provides an extreme amount of versatility during operation.
Product Turning: 90 or even 180 degree product turning can be easily accommodated on Chameleon Finishing Systems. By equipping our transport bases with our versatile ¼ turn or ½ turn processing abilities, we are able to offer you production capabilities with extreme flexibility in turning radius', as well as offering short distance product turning and side registering at full machine running speeds.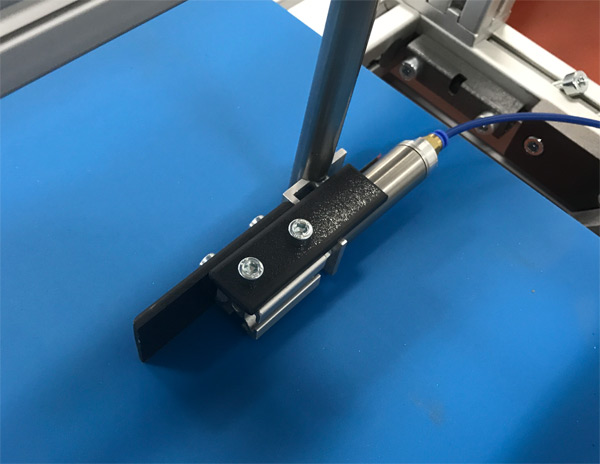 Batch Offsetting Device: If you have the need to package your product in even, accurately counted batches, the Chameleon Finishing Systems batching offsetting package allows for a smooth running method of producing batch separation on the delivery mechanism.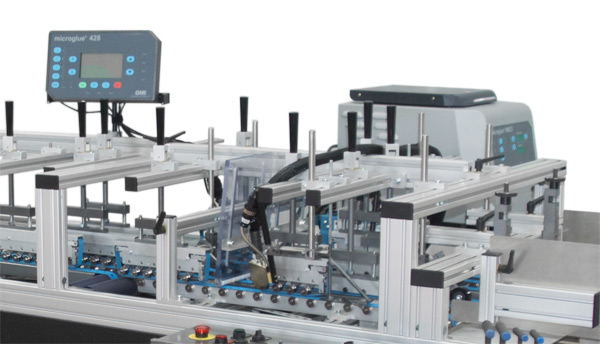 Third Party Glue Systems: Chameleon Finishing Systems are able to be integrated with a wide variety of third party glue systems. Many of our complete finishing systems feature GMS based glue systems - a leading US based provider of glue application hardware and controllers - in varying degrees of complexity and with many different options. Hot or cold and from 2 heads to 8 or more, we can help design a Chameleon Finishing System that can meet your folding and gluing needs now and into the future.
Other Accessories: One of the hallmarks of Chameleon Finishing Systems, and something we take great pride in, is our ability to adapt to the unique needs of every one of our clients – and this approach certainly extends into the creation of custom accessories to be used for a wide variety of unique production needs. From off the shelf solutions produced by third parties to custom made pieces unique to the job at hand, we are capable and willing to help solve your needs via our innovative approach to product manipulation and production. From turnover modules, to scoring and folding, to products placed on top of, under, or even inside of another, there is a good chance we can help you find a way to make it possible. If you have a project that you are considering and are not sure how to proceed, please give us a call and we will be happy to work with you to create a solution.